"In 1130, Maredudd ap Bleddyn of Powys had his great nephew Llywelyn's testicles removed and his eyes gouged out. It is unclear what offense Llywelyn had committed against Maredudd to merit this treatment, but events leading up to Llywelyn's mutilation suggest that Maredudd feared that Llywelyn would become a threat to his own political power. Removing Llywelyn's eyes and testicles was an acceptable means, by Maredudd's standards, of dealing with this threat. Whether Llywelyn survived the double mutilation is also unclear, as he is never again mentioned in the sources. However, it is not a stretch to reason that, if he did survive, he was no longer a threat to his great uncle's control of Powys … When a man was castrated and lost this ability, he was no longer fully a man … Thus castrated men, or eunuchs, were something of a third gender, neither ranking with physically whole men nor with women. In fact, Ringrose states that eunuchs were most commonly assumed to be like women, and that the same adjectives were used to describe both: unkind, ungenerous, immoderate, and fainthearted."
In 1131 Meurig ap Meurig, a member of the dynasty Arwystli, was castrated and blinded; 1152 Owain ap Gruffudd ap Cynan had his nephew Cunedda castrated and blinded; 1175 Hywel ap Iorwerth, heir apparent to the lordship of Caerleon castrated and gouged out the eyes of his uncle Owain Pen-carn.
"The cultural meaning of castration in Wales was not that the man who was castrated became effeminate, but that such a man could not reproduce … the Welsh chronicles are devoid of the gendered language that is associated with castrated men in Byzantine and European sources. Therefore, the cultural understanding of castration that was current in the Byzantine Empire and Western Europe does not appear to have been present in Wales … castration in Welsh society did not carry with it the stigma of effeminacy."
Source: Lizabeth Johnson, Mutilation as Cultural Commerce and Criticism: the Transmission, Practice, and Meaning of Castration and Blinding in Medieval Wales, Istoria: An Online Graduate History Journal, Vol.1:1 (2008)
1136
The word androgynous, meaning partly male and partly female in appearance, or of indeterminate sex, was, and is, often used by writers either as a description or as a slur – often using the term to unsex an individual made it easier to present that individual in a different light – so it's always interesting when the term is used. Take for example, Gwenllïan ferch Gruffydd (c. 1100 – 1136) a Princess consort of Deheubarth [in modern Pembrokeshire] who led a "patriotic revolt" against the English during the Great Revolt of 1136 at Kidwelly Castle where she was killed in action. Gerald of Wales wrote:
IN this district, after the death of King Henry, whilst Gruffydd, son of Rhys, the Prince of South Wales, was engaged in soliciting assistance from North Wales, his wife Gwenllian (like the Queen of the Amazons and a second Penthesilea) led an army into these parts; but she was defeated by Maurice de Londres, lord of that country, and Geoffrey, the bishop's constable. Morgan, one of her sons, whom she had arrogantly brought with her in that expedition, was slain, and the other, Malgo,4 taken prisoner; and she, with many of her followers, was put to death.
The writer Geraint H. Jenkins in his A Concise History of Wales comments that Gwenllïan was, 'a beautiful princess so terrifyingly androgynous that she was liked by Gerald of Wales to the Queen of the Amazons.' As the Amazons were unmistakably women, it leaves the question of why Jenkins would refer to her as 'terrifyingly androgynous'?
Sources: The itinerary of Archbishop Baldwin through Wales, A.D. MCLXXXVIII. By Giraldus de Barri; translated into English, and illustrated with views, annotations, and a life of Giraldus, by Sir Richard Colt Hoare, bart., 1806, p168; Geraint H. Jenkins, A Concise History of Wales, Cambridge University Press, 2007, p78
1187
Giraldus Cambrensis, Gerald of Wales, publishes Topographia Hibernica (Topography of Ireland) which includes:
CHAPTER XX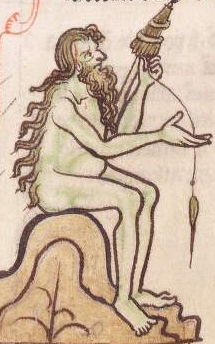 Duvenald, king of Limerick, had a woman with a beard down to her navel, and, also, a crest like a colt of a year old, which reached from the top of her neck down her backbone, and was covered with hair. The woman, this remarkable for two monstrous deformities, was, however, not an hermaphrodite, but in other respects had the parts of a woman; and she constantly attended the court, an object of ridicule as well as of wonder. The fact of her spine being covered with hair neither determined her gender to be male or female; and in wearing a long beard she followed the customs of her country, though it was unnatural in her. Also, within our time, a woman was seen attending the court in Connaught, who partook of the nature of both sexes, and was an hermaphrodite. On the right side of her face she had a long and thick beard, which covered both sides of her lips to the middle of her chin, like a man; on the left, her lips and chin were smooth and hairless, like a woman.
Topographia Hibernica also includes this extract which was to prove so controversial in 1994.
A proof of the inequity (of the Irish) and a novel form of marriage

Among many other examples of their wicked ways, this one is particularly instructive: under the pretext of piety and peace they come together in some holy place with the man they want to join. First they are united in pacts of kinship, then they carry each other three times around the church. Then, entering the church, before the altar, in the presence of the relics of saints and with many oaths, and finally with a celebration united as if in some marriage. At the end, as further confirmation of the friendship and a conclusion of the proceedings, each drinks the other's blood, which is willingly shed for this. [This, however, they retain from the rites of pagans, who customarily use blood in the sealing of oaths].

How often during the very act of this marriage is blood shed by treacherous and violent men so iniquitously and unjustly that one or the other remains all but drained of blood! How often in that very incontinent hour does a bloody divorce either follow, precede, or even, in an unhead-of-way, interrupt the marriage itself!
For more on the controversy surrounding this passage see Norena Shopland's book Forbidden Lives: LGBT stories from Wales, (Seren Books, 2017)