1910
PONKY (a village in the parish of Ruabon, about 3 miles south of Wrexham)
Mae'r hen arferiad y Morris Dance wedi llwyr gilio, ac nid yw hyny yn golled i neb, gan ei fod wedi dirywio i dduo gwynebau a gwisgo mewn dillad merched, a llymeitian.
The old Morris Dance practice has completely disappeared, and that is no loss to anyone, as they have declined to bleach faces and dress in women's clothes, and go for it.
Source: The Rhos Herald, 7 May 1910
1914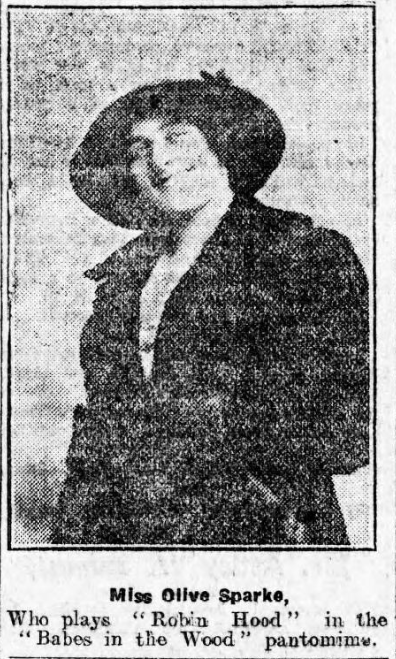 During the 19th and early 20th centuries, audiences accepted same-sex (and they would have been considered same-sex at this time) couples in romantic roles such as this performance at the Grand Theatre, Swansea:
"What would a pantomime be without its principal boy and girl, and where could finer ideas of both be found than in Bold Robin Hood and Maid Marian? The cast includes Miss Olive Sparke, a sprightly "Robin Hood." She is an accomplished vocalist, actress and dancer, and possesses great personal charm. In Miss Kathleen Severn as "Maid Marion" will be found a pleasing foil for Miss Sparke. Miss Severn is a well-known musical comedy leading lady, with a dainty method and piquant style."
Source:  The Cambrian Daily Leader, 10 January 1914 (See 1894 for another Robin Hood cross-dressing role)
1915
GIRL DISGUISED AS FIREMAN.
Found in the streets early on Wednesday dressed in dungarees, a fireman's jacket and cap, and with a greasy muffler wrapped around her neck, Nellie Davies, a girl of attractive appearance, was charged at Newport with masquerading as a man. Superintendent William Brooks said the girl, who was an inmate of the Newport Workhouse, had run away, going to a boat at one of the wharves, where she had taken off the clothes she wore at the workhouse, dressing in clothing owned by one of the seamen. Defendant explained she was on her way to see friends who would give her female attire when stopped by the police. Promising she would return to the workhouse, the girl was bound over for six months.
Source: The Cambria Daily Leader, 25th March 1915
He (?) Scooted
Amusing Incident at Naval Recruiting Depot.
An amusing incident is said to have occurred at the Swansea Naval Division Recruiting Headquarters last week.
One morning, what was apparently a smart, well-built young fellow presented himself to the recruiting officer, expressing his desire to enlist. In the course of the conversation which ensued, the officer perceived that the would-be recruit possessed a pronounced effeminate voice.
The officer, somewhat perplexed, questioned the individual at some length, eventually imparting the information that a medical inspection would be necessary before the enrolment could be effected. This statement was added to be the fact that that process could be proceeded with immediately, as the medical officer was already on the premises. The recruiting officer requested the recruit to undress, and he would summon the doctor. But, instead of complying with the request, the would-be recruit hesitated, and suddenly turned pale. Then, before the officer could leave the room, the recruit hurriedly preceded him, and was well out of sight before he could reach the office front entrance.
Source: Cambrian Daily Leader, 12 November 1915
1917
Dressed as a girl. Extraordinary Story from North Wales.
An extraordinary case of a boy being brought up from infancy as a girl came to light at Carnarvon on Whit Monday. While looking for an Army absentee, supposed to be masquerading in female attire, Sergeant Owen noticed a young woman who betrayed a certain masculine peculiarities.
Upon being challenged, she denied she was a deserter, and gave her name and place of residence in Llanberis district. An examination by the police doctor established the fact that the person was a male.
Inquires show that the young man, who is 20 years of age, has always been treated by his grandparents as a girl.
Source: The Cambrian Daily Leader, 30 May 1917