by Luke Blaidd
Following on from my first blog The Case of the 450 year-old Word: A Queer Welsh slur throughout the centuries (in which I dove into the history of the terminology used for gay men in Welsh), this blog is a short history of the lesbian, bisexual, trans and intersex terminology used in Welsh in the last two centuries. Having already covered the G, it was high time to give the L,B,T and I+ some love too.
Lesbian terminology in Welsh:
Terms relating to lesbians in Welsh don't make an appearance until 1981 in my dictionary records. Prior to the usage of lesbian to refer to women who love women, the term Sapphist was used. In the 40+ dictionaries I've looked through, lesbian terms appear in just 15 of them. Y Geiriadur Cymraeg Cyfoes would be the first. 
Y Geiriadur Cymraeg Cyfoes decides to go with three terms in 1981- 'lesbiad' (lesbian), 'lesbiaid' (lesbians) and 'lesbiaeth' (lesbianism). Followed at a reasonably-long chronological distance by Y Geiriadur Cymraeg Cyfoes – 1992 edition. Listing just 'lesbiad' and 'lesbiaeth' this time. By 1993, the Collins Spurrell Pocket Welsh Dictionary had whittled it down to simply 'lesbiad'. Between 1993 and 2007, 7 further dictionaries list one or more of the terms above. Generally cycling between 'lesbiaeth' and 'lesbiad'. That is, until 2008, when Webster's Welsh-English Thesaurus Dictionary surprised us all with an unexpected usage of 'clawdd' (dyke). No other term is listed for lesbian- just 'clawdd'. Like with its English language counterpart, 'clawdd' can refer to the geographic feature as well as be a partially reclaimed slur for lesbians. This term does not surface again, however, as 2009-2018 is demarcated by the emergence of a preferred orthography for lesbian in Welsh. The Welsh Gem Dictionary from 2017 prints 'lesbiaidd'- the spelling of which is the most common variation at present- though 'lesbiad' can still be seen in other publications, such as a Welsh-English, English-Welsh Dictionary from 2018. 
Bisexual terminology in Welsh:
Your friendly neighbourhood blog writer here is bisexual! Which is why the following data is special to me but also frustrating. Not least because, well, it's so sparse! Only 7 dictionaries out of the more than 40 I have looked at so far include the term bisexual. There is a reason for this, which will be fully explained and explored in the intersex terminology section of this blog. Suffice to say, the term bisexual (sexuality) has been conflated with the archaic term bi-sexed (sex) to no end in both English and Welsh. So what follows here is a short history of the term in a sexuality context. 
The earliest (secure) reference to bisexual as a sexuality in a Welsh dictionary is in 1981's Y Geiriadur Cymraeg Cyfoes as 'deuryw' (bisexual). It's no coincidence that it is in the 1980s specifically that lesbian, bisexual and other terms begin to get some visibility in the Welsh dictionary publishing world. Y Geiriadur Cymraeg Cyfoes distinguishes between bisexual and intersex by referring to the latter as 'deurywyn' (but more of that later). Like with 'lesbiad' (lesbian), the 1992 edition of Y Geiriadur Cymraeg Cyfoes also includes 'deuryw' (bisexual). By 1993, the Collins Spurrell Pocket Welsh Dictionary introduces the now-standard orthography for bisexual in Welsh. It lists 'deuryw' (bisexual) as well as 'deurywiol' (bisexual). The latter of which has the suffix '-iol' – which denotes adjective status. The formerly-used term 'deuryw' implies a meaning of 'a bisexual' (noun) instead of bisexual as a descriptor of someone's sexuality (adjective). 'Deuryw' managed to cling on until 2006, included in the Collins Gem Welsh Dictionary. But by the 2010s, including '-iol' had become the dominant orthographic style, it appears as such in the Welsh dictionary Gomer in 2016.
Transgender terminology in Welsh:
Rather surprisingly- for the earliest terminology relating to a change of sex in Welsh we can look as far back as the early 19th Century, in 1803. Across over 40 dictionaries, just 7 had any terms relating to transness or trans-adjacent/related topics.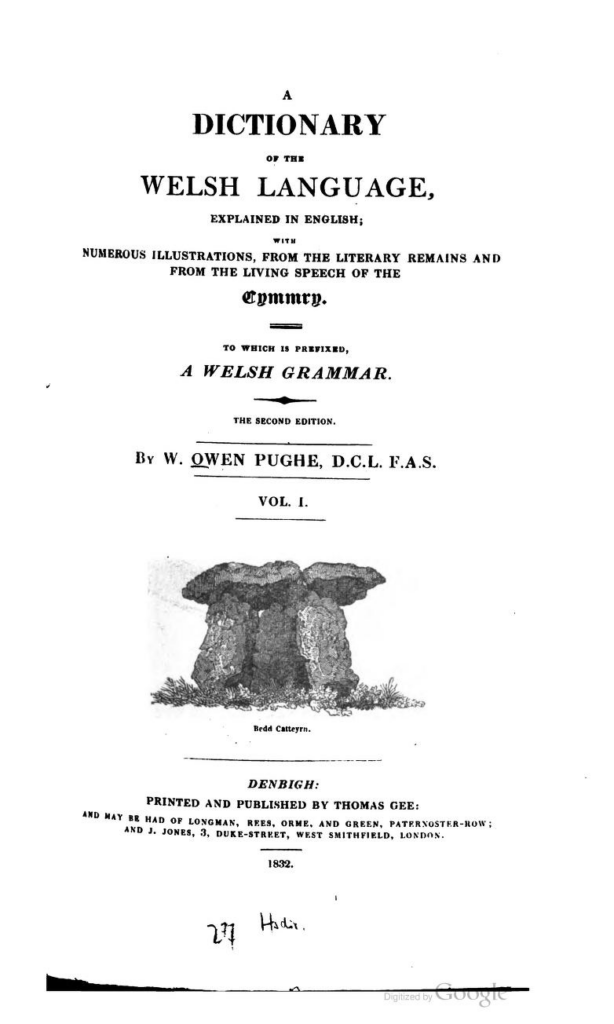 In A Dictionary of the Welsh Language, Pughe lists the word 'trawsrywiad' (transexion). It is likely that this is the origin of the word's Welsh translation. Equally as archaic is the English term upon which it is based- that word being transexion. It is an obscure word which refers to a 'change of sex', usually animal, in which the presumed sex of an animal turned out to be incorrect and the caretakers of it believing that it had spontaneously changed sex. The term 'trawsryw' (cross-breed) is also listed by Pughe, though this word usually refers to a cross-breed of animal (such as a zorse or a liger). The superficial similarity of the 'trawsryw' to 'trawsrywiad' bears mentioning, however, to prevent it from being conflated with the modern-day idea of transness. 'Trawsrywiad' is also mentioned separately in 1858 by Daniel Silvan Evans in An English and Welsh Dictionary. 
The next time trans topics (or trans-adjacent topics) are referred to in the dictionaries I looked at, would be during the 21st Century. Before the concept of transness was referred to as transgender, it was referred to as transsexual. And before that, transness was frequently conflated with transvestism (or cross-dressing). The term transvestism was coined in 1910 by the German sexologist Magnus Hirschfeld, At an indeterminable point in the 20th Century, the term entered the Welsh language. It is recorded in Welsh in a dictionary from 2006, Y Terminadur, as 'trawswisgwr' (transvestite), 'trawswisgwyr' (transvestites) and 'ffetishiaeth drawswisgo' (transvestic fetishism)- the latter of which is an outdated term for transvestic disorder, a diagnosis frequently conflated with transsexuality throughout the 20th Century. Transsexual as a term was coined in 1923 by Hirschfeld again, being translated into English by David Oliver Cauldwell in 1949/1950. Naturally, the term for transsexual in Welsh developed at some point in the second half of the 20th Century, but there is no record in the dictionaries I looked at until 1981 in Y Geiriadur Cymraeg Cyfoes, which lists 'trawsrywiol' (transsexual). In 2016 the Geiriadur Newydd lists 'trawsrywiol' (transsexual) and 'trawsryweddol' (transgender)- the latter of which is the accepted term for the modern community. The '-iol' suffix is crucial to differentiate 'trawsryw' (cross-breed) from 'trawsrywiol' (transsexual)- making it an adjective rather than a noun. Transgender as a term originates from 1965, coined by John Oliven. It therefore follows that 'trawsryweddol' (transgender) emerged in Welsh at some point after that. 

Intersex terminology in Welsh:
This next section is going to be long, so I'd suggest curling up with a cup of tea and settling in for a wild ride in the world of terminology for intersex people in Welsh. Intersex is a modern term which refers to individuals whose sex is not binary. Older, more offensive terms (to the modern ear)  for intersex people include the term 'hermaphrodite' – unfortunately it is the most common heading under which intersex terminology can be found in the dictionaries. Out of the 40+ dictionaries I have looked at thus far, 20 of them had a term or terms under the heading 'hermaphrodiate' or 'epicene'. Many of these terms are incredibly outdated, offensive or just downright unusual. 
Beginning with Pughe's Dictionary of the Welsh Language from 1803, the terms given are 'cydryw' and 'deuryw' (hermaphrodite). 'Deuryw' dates from the 1600s at least, in reference to intersex. In Welsh, 'deuryw' literally translates to'bi-sexed' or 'dually sexed'.  The element 'cyd-' as a prefix refers to the joining or combining of something- therefore 'cydryw' is the joining or combining of sexes. This term dates back to the 1500s, though it has another simultaneous meaning of homogenous. 
Next up, John Walter's An English and Welsh Dictionary from 1815 showcases just a taste of some of the wildest antiquated words which referred to sex outside the binary. Walter lists these terms under the heading 'hermaphrodite' : 'Gwr-wraig', 'Mab-ferch', 'Un a fo gwrryw a benyw' and 'Catwr-wraig'. The first one is very clear, being composed of both a word meaning man, 'gwr' and a word meaning woman, 'gwraig'- hence 'gwr-wraig' is something like 'man-woman'. The next is similar, but the term probably signified a young person. 'Mab' meaning boy or son and 'merch' meaning girl or daughter. Therefore 'mab-ferch' would be 'boy-girl' in English. The middle "term" is actually a small sentence- something I have come across often next to entries in my dictionary research and is an unusual, fascinating and often window into the attitudes of the author(s) of these dictionaries. Some of you who have read my previous blog on dictionary terminology will remember one notorious phrase from the 2001 edition of Y Geiriadur Cryno: The Concise Welsh Dictionary in which the author inserted a phrase which reads in English as "one in an unnatural relationship with someone else of the same sex"- next to the entry for homosexual. This third phrase is of a similar nature, 'un a fo gwrryw a benyw' reads in English as "one that is male and female". Oddly, another word for male or man 'gwryw', is spelled with two "r's" here. Something which is replicated in later dictionaries written by others, such as Y Geirlyfr Saesoneg a Chymraeg from 1850 by Thomas Edwards. But the final word in this small list is the one which intrigues me the most. It was only on my third dedicated trip to Hugh Owen library that I found this term- and if my gut instinct about it is correct, this term is analogous to the concept of warrior-women. 'Cadwr' is an archaic term for a warrior, soldier, a fighter or alternatively, one who defends or keeps something. Something which can happen within Welsh words are minute sound changes which alter pronunciation and spelling/orthography. You can see this within the word 'dafad' (a sheep) when it becomes plural as 'defaid' (sheep)- very minutely the first 'a' sound in 'dafad' becomes 'e' in 'defaid'. The reasons for these sound changes can be complex, but the simplest explanation is usually that it makes the word flow better in a sentence. 'Dafaid' would introduce a slight clunkyness in whichever sentence it is in, therefore Welsh corrects this to maintain sentence flow. With 'catwr-wraig', it is entirely possible that this minute sound change is deliberate to facilitate ease of pronunciation. 'Gwraig', as mentioned earlier, is a word for woman in Welsh. Therefore 'catwr-wraig' would read something like 'warrior-woman' in English. The Amazons of Ancient Greek myth- famed warrior women- were often conflated with a sense of masculinity or as having intersex characteristics in the 19th Century, so this suggestion of warrior-women being used here as a synonym for intersex is not as surprising with this in mind. The icing on the cake, however, is that in a later edition of Walter's dictionary, the term Amazon is listed as a synonym for intersex in 1828. What's more, he lists the following terms as a translation for Amazon in Welsh: 'Gwr-forwyn', 'Gwr-wraig' and 'Gwraig ŵrol'. 'Gwr-wraig' makes it clear that in Welsh, the concepts of Intersex, warrior women and Amazons were associated together and often used/conflated with each other. 'Gwr-forwyn' is cruder, meaning man-maid, while 'gwraig ŵrol' has the meaning of valiant (or manly) woman.
Moving away from Walter, in 1857 An English and Welsh Pronouncing Dictionary was published. It lists all the usual suspects like 'cydryw', 'deuryw' and 'gwr-wraig', but it also has the following terms too: 'Gwrfenyw', 'Hifyn-hafog' and 'Gwrfenywaidd'. The first and last terms in that list- 'gwrfenyw' and 'gwryfenywaidd'- are related. 'Gwrfenyw' is a variation on 'man-woman' and the '-aidd' suffix on the final term signifies an adjective. On its own, 'benywaidd' means feminine. But within this term, it suggests more of a hybrid meaning- somewhere along the lines of both feminine and masculine. The terms 'gwr-wraig' and 'gwrfenyw' are reminiscent of the modern-day derogatory term 'he-she'. In this way, the term 'gwrfenywaidd' seems constructed in a way to suggest a similar purpose and convey a similar message to those who it was applied to. In a similar way, 'hifyn-hafog' comes from that same niche as well, but has been constructed in an altogether different way. According to Geiriadur Prifysgol Cymru, the first part of that term 'hifyn-' is part of the cry 'hai hifyn' formerly raised when cattle were found to have broken into a neighbour's field- a synonymous phrase being 'hai hafog'- 'hafog' meaning havoc in Welsh. 'Hifyn' doesn't seem to have a singular meaning by itself, but A Pocket Dictionary, English-Welsh by a Mr. W. Richards in 1861 suggests that the term relates to skin, or strips/sections of skin. However, the meaning of 'hifyn' in this context might be irrelevant. The extremely important work by Norena Shopland and Daryl Leeworthy in Queering Glamorgan has the cryptic term 'mihifir-mihafar' to mean intersex. As it turns out, there are numerous variations of this phrase. In preliminary research, it appears that this term used to be part of a popular late 19th Century and early 20th Century rhyme: 'Mihifir-Mihafar, nid bwch a nid gafar'. This is possibly a corruption of standard Welsh 'hifr di hafr, nid bwch a nid gafar', in which 'hyfr' means male goat (especially a gelded goat) and 'hafr' is another variation of the spelling of male goat- according to Geiriadur Prifysgol Cymru. The 'di' element means 'without' and so 'hifr di hafr' paraphrased would mean 'a male goat that isn't male. In combination with the specification of Geiradur Prifysgol Cymru that these terms especially refer to gelded (neutered) male goats, the intended effect of this rhyme is possibly to conjure up images of goats (or people) which are neither 'he nor she' and imagery of castration. Additionally, 'nid bwch' (not he-goat) and 'nid gafar' (not she-goat) complete this rhyme's theme, if somewhat superfluously, with 'bwch' referring to a goat buck (male) and 'gafar' referring simply to a goat (though often the 'female' version of an animal's common name will be used as shorthand for the animal as a whole. E.g. in English groups of cattle are commonly called cows whether they are all-female herds or not)- hence here 'gafar' is likely intended to be understood as female goat and not as simply goat. 
However, it cannot be emphasized enough that more research is needed to absolutely verify any of these etymologies. Thus far, the only contemporary sources in the 19th and 20th Centuries are overwhelmingly esoteric and loaded with plentiful unsourced claims and information. The Geiriadur Prifysgol Cymru entry for 'mihifir-mihafar' records variations by region. They are as follows: Mifi-mihafar, mifi-mihafan (Anglesey), myfi-myhafan, (Caernarfonshire), myhifi myhafar (Llŷn Peninsula), hifin-(mi)hafan, hifi-di-hafa, hifir-hafar (Merionethshire), myfir-dihafar (North Ceredigion) and miheri mihara, (Brecknockshire and Glamorganshire). I can't resist an excuse to make a map, so here are the terms above and their approximate regions of usage over a map of Wales: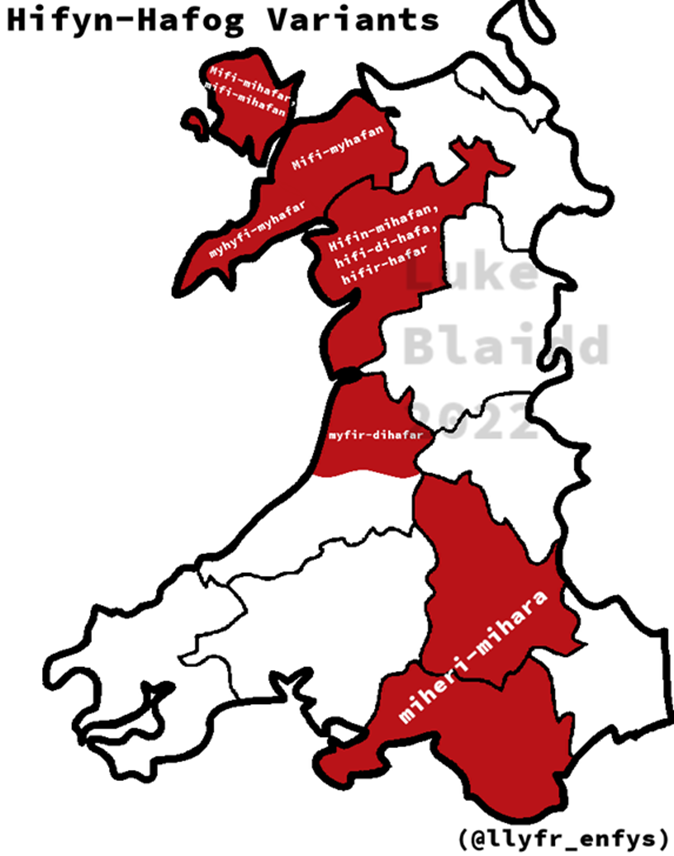 'Hifyn-hafog' is also recorded in An English and Welsh Dictionary by D.S. Evans from 1858. It also records 'catwrwraig' alongside this.
Most dictionaries up until the 1980s use either 'deuryw', 'cydryw' or both. Oftentimes there will be variations of these two words in various types and forms. In 1981 the term 'hermaphrodit' appeared- a rendering of 'hermaphrodite' in Welsh. It appears in Y Geiriadur Cymraeg Cyfoes alongside 'deurywyn', a variant of 'deuryw' in the singular. 
Until 2008, no new terms for intersex were introduced, but in Webster's Welsh-English Thesaurus Dictionary, the term 'anrywiol' is used. 'Anrywiol' would normally be translated as asexual and by 2008 definitely should refer to the sexuality. The first recorded use of 'anrhywiol' to mean asexual as a sexuality in Welsh (that I can find) comes from the Welsh medical journal Cennad cylchgrawn Y Gymdeithas Feddygol in 1986, which discusses the risk of prostate cancer to various groups. It mentions risk relating to 'y garfan ddibriod ac anrhywiol' (the unmarried and asexual cohort). So this usage of 'anrywiol' to mean intersex is quite unusual. It would suggest 'unsexed' in this context as opposed to the asexual definition. 
Other terminology in Welsh:
Asexual:  This section is rather short, as the more niche or new the term, the harder it is to find in Welsh. There is, however, one other source for the sexuality term asexual in Welsh. Further to the point just outlined, by 2008, the term asexual was known to mean the sexuality and not related in any way to intersex concepts in Welsh. The medical journal from 1986 is the earliest known usage of 'anrhywiol' as a human sexuality term in Welsh, but it also appears in the 1992 edition of the Hippocrene Standard Dictionary – Welsh-English English-Welsh by H. Meurig Evans. A mere 6 years apart. 
I hope that you have enjoyed this latest blog post and found it useful. I hope one day to be able to add to this list as I discover more terms in dictionaries and other places!
-Luke Blaidd
Sources:
Lesbian:
Evans, H. Meurig, Y Geiriadur Cymraeg Cyfoes, 1981, p. 171
Collins Spurrell Pocket Welsh Dictionary, 1993
Webster's Welsh-English Thesaurus Dictionary, 2008, p.135
Welsh Gem Dictionary, 2017
Welsh-English, English-Welsh Dictionary, 2018
Bisexual:
Evans, H. Meurig, Y Geiriadur Cymraeg Cyfoes, 1981, p.108
Collins Spurrell Pocket Welsh Dictionary, 1993
Welsh Gem Dictionary, 2017
Gomer, 2016
Trans: 
Pughe, William Owen, A Dictionary of the Welsh Language, 1803
Evans, Daniel Silvan, An English and Welsh Dictionary, 1858, p. 1858
Y Terminadur, 2006, p. 417
Evans, H. Meurig, Y Geiriadur Cymraeg Cyfoes, 1981, p. 560
Geiriadur Newydd, 2016
Intersex:
Pughe, William Owen, A Dictionary of the Welsh Language, 1803, CYD, DEU
Walter, John, An English and Welsh Dictionary, 1815, p.693
Edwards, Thomas,Y Geirlyfr Saesoneg a Chymraeg, 1850
Spurrell, William, An English and Welsh Pronouncing Dictionary, 1857, p.391
Shopland and Leeworthy, Queering Glamorgan, 2018
Evans, Daniel Silvan, An English and Welsh Dictionary, 1858, p. 108
Evans, H. Meurig, Y Geiriadur Cymraeg Cyfoes, 1981, p. 413
Webster's Welsh-English Thesaurus Dictionary, 2008
Asexual:
Cennad cylchgrawn Y Gymdeithas Feddygol, Hydref 1986 (Cyfrol 7, Rhif 2), p.
Evans, H. Meurig, Hippocrene Standard Dictionary – Welsh-English English-Welsh, 1992