(For Welsh see below)
Amgueddfa Cymru has been collaborating with Welsh LGBTQ+ Historian Norena Shopland to run a Creative writing project that focuses on creatively responding to pieces of Wales' often hidden or forgotten LGBTQ+ history.
We are inviting people to submit prose, poems, or artwork inspired by the four historic texts in this pack (see below). Submissions will be selected to be compiled into an eBook publication with the potential of further publication.
There will be an opportunity for people to read or showcase their contributions at an event in June at National Museum Cardiff.
All Submissions can be up to 1,000 words, in Welsh or English, and up to 3 submissions per person are welcome! There is no financial payment for submissions.
Send over your work to:
Bloedd.ac@museumwales.ac.uk
Deadline: 30 June 2023
Galwad Allan Proud Writing:
Mae Amgueddfa Cymru wedi bod yn cydweithio â'r hanesydd LHDTC+ Cymreig Norena Shopland i gynnal project ysgrifennu creadigol sy'n canolbwyntio ar ymateb yn greadigol i ddarnau o hanes LHDTQ+ sydd yn aml wedi'u cuddio neu eu hanghofio.
Rydym yn gwahodd pobl i gyflwyno rhyddiaith, cerddi neu ddarluniau sydd wedi eu hysbrydoli gan y testunau hanesyddol yn y pecyn hwn. Bydd cyflwyniadau'n cael eu dewis i gael eu llunio'n gyhoeddiad eBook gyda'r potensial o'i gyhoeddi ymhellach.
Bydd digwyddiad hefyd i ddathlu'r gwaith o ysgrifennu'r prosiect hwn ym mis Mehefin yn Amgueddfa Genedlaethol Caerdydd. Gall pob cyflwyniad fod hyd at 1000 o eiriau ac yn Gymraeg neu Saesneg, mae hyd at 3 cyflwyniad y person yn eu croesawu!
Anfonwch eich gwaith drosodd i:
Bloedd.ac@museumwales.ac.uk
Dyddiad cau: 2 o Fehefin 2023
TEXT 1

"Extraordinary Circumstances. – On the 28th last, at Llanfynydd, Sarah, the wife of Evan Jones, shoemaker, gave birth to a child which is a perfect hermaphrodite, and the registrar is consequently puzzled how to register it. The medical faculty have as yet failed to solve the problem submitted to them in this case. Had not this fact been communicated to us from a source which we have every right to rely upon, we should have been inclined to doubt its authenticity, but there is no reason to doubt the correctness of our information." – Welshman
TEXT 2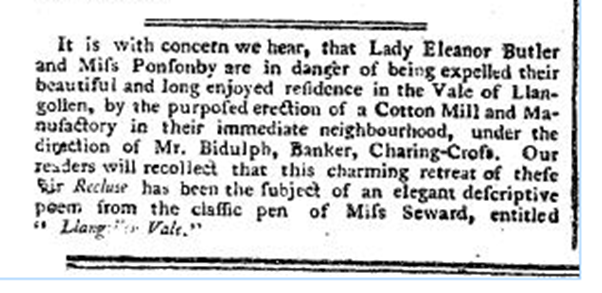 "It is with concern we hear, that Lady Eleanor Butler and Miss Ponsonby are in danger of being expelled their beautiful and long enjoyed residence in the Vale of Llangollen, by the purposed erection of a Cotton Mill and Manufactory in their immediate neighbourhood, under direction of Mr. Bidulph, Banker, Charing-Cross. Our readers will recollect that this charming retreat of these Recluse has been the subject of an elegant descriptive poem from the classic pen of Miss Seward, entitled 'Llangollen Vale'"
For more context on this text look up the Ladies of Llangollen.

TEXT 3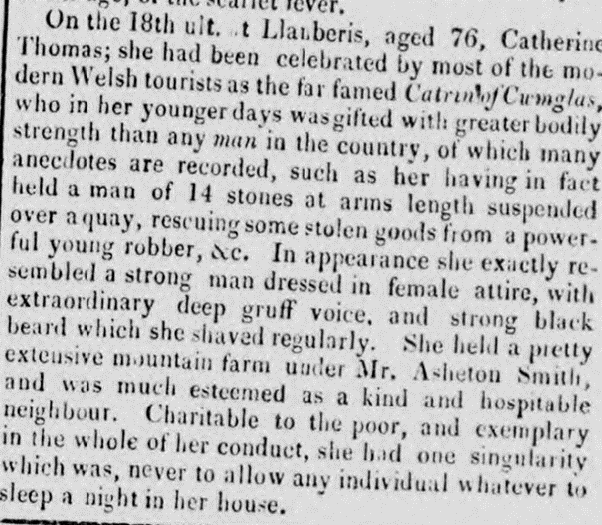 "On the 18th Ult. Llanberis, aged 76, Catherine Thomas: she had been celebrated by most of the modern Welsh tourists as the far farmed Catrin of Cwmglas, who in her younger years was gifted with greater bodily strength than any man in the country, of which many anecdotes are recorded, such as her having in fact held a man of 14 stone at arm's length suspended over a quay, rescuing some stolen goods from a powerful young robber &c. In appearance she exactly resembled a strong man dressed in female attire, with an extraordinary deep gruff voice, and strong black beard which she shaved regularly. She held a pretty extensive mountain farm under Mr.Asheton Smith, and was much esteemed as a kind and hospitable neighbour. Charitable to the poor, and exemplary in the whole of her conduct, she had one singularity which was, never to allow any individual whatever to sleep a night in her house."

TEXT 4
What a rotter!
A man whose family gave its name to some of South Wales' best-known streets and roads has been included in a list of the worst Britons of the last 1,000 years.
A man whose family gave its name to some of South Wales' best-known streets and roads has been included in a list of the worst Britons of the last 1,000 years.
Hugh Despenser the Younger, who terrorised South Wales throughout the early 14th Century, joins the likes of fascist Oswald Mosley and serial killer Jack the Ripper in the list compiled by 10 historians for the BBC History Magazine by 10 historians.
The news will undoubtedly come as a shock to residents of Riverside, Cardiff, living in Despenser Street, Place and Gardens, along with those in Despenser Road, in Sully and Despenser Avenue, in Llantrisant.
Born in 1286, Hugh was the son and heir of the Earl of Winchester, Hugh Le Despenser the Elder.
In May 1306 he was knighted and that summer married Eleanor de Clare, a granddaughter of King Edward I of England, in payment of a debt owed to Hugh's father.
In 1316, Hugh murdered Llywelyn Bren, a Welsh hostage in his custody by having him hanged, drawn and quartered, in Cardiff.
Hugh, who was bisexual, then became close to the homosexual King Edward II who was to meet an awful end when a hot poker was rammed up his bottom.
Not content with the Lordship of Caerphilly, Hugh also took the Lordship of Cardiff, owning both Caerphilly and Cardiff Castles for a time.
Finally local barons prevailed on King Edward and Hugh and his father was exiled to France but he was reinstated as a royal favourite a year later.
However, when King Edward's estranged wife Isabella and Hugh's enemy Roger Mortimer invaded England, Hugh's father was executed, and Hugh himself was captured. He tried to starve himself before his trial, but was tried on November 24, 1326.
He was judged a traitor and a thief, was drawn and quartered, and his testicles severed and burnt before him.
Magazine editor Dave Musgrove said: 'How do you decide on the worst Briton? It's not an easy choice, is it the person who murdered the most citizens or the one who led the country into the most desperate straits of poverty or war, or perhaps just he who trod most unscrupulously on those around him?
'We left the criteria up to the ten historians we spoke to, and it's their definitions of wickedness that give us such a diverse selection of figures on our list of evilness.'
Text from WalesOnline. For more on Edward II
Most terminology in use today is modern, for this text try writing a story about King Edward and Hugh Despenser without using the LGBTQ+ words and phrases you're familiar with.