1903

Source: Rhyl Record and Advertiser, 16 May 1903
For more on Percy Meye listen to Jane Hoy's podcast
1904
Angus McBean, a Welsh photographer, was born on 8 June. In the spring of 1942, his career was temporarily ruined when he was arrested in Bath for criminal acts of homosexuality. He was sentenced to four years in prison and was released in the autumn of 1944. After the Second World War, McBean was able to successfully resume his career.
1906
CURIOUS PHENOMENON AT CARDIFF An inquest was held at Cardiff on Thursday touching the death of Francis Knight, the hermaphrodite child of Henry Knight, commercial traveller, Penylan-road. The mother said the child, which had been delicate from birth, was so formed that it was impossible to tell whether it was a boy or girl. Dr. Boyd, who made a post-mortem examination, said death was due to a clot of blood on the aorta. A post-mortem was the only means of ascertaining the sex of the child, which he found to be a girl. A verdict of "Death from natural causes" was returned.
Source: The Cambrian, 25 May 1906
1907
Trevor Thomas was born in Ynsddu, Gwent. He became the youngest Keeper at the Liverpool Museums. In July 1946, his career came to a sudden end after he appeared in court charged with a public indecency offence. He later worked for the Campaign for Homosexual Equality
1908
Extract from The Autobiography of a Super-Tramp by Welsh poet and writer W. H. Davies (1871–1940).
Some days before this, a man came to the office, whose peculiar behaviour often drew my attention to him. He asked to be allowed to work his passage to England, and the skipper promised him the first opportunity, and a sum of ten shillings on landing there. This was the reason why some of us had to wait so long, because, having made trips before, more or less, we required payment for our experience. The man referred to above, had a white clean complexion, and his face seemed never to have had use for a razor. Although small of body, and not seeming capable of much manual labour, his vitality of spirits seemed overflowing every minute of the day. He swaggered more than any man present, and was continually smoking cigarettes–which he deftly rolled with his own delicate fingers. In the intervals between smoking he chewed, squirting the juice in defiance of all laws of cleanliness. It was not unusual for him to sing a song, and his voice was of surprising sweetness; not of great power, but the softest voice I have ever heard from a man, although his aim seemed to make it appear rough and loud, as though ashamed of its sweetness. It often occurred to me that this man was playing a part, and that all this cigarette smoking, chewing tobacco and swaggering, was a mere sham; an affectation for a purpose. I could not, after much watching, comprehend. He was free of speech, was always ridiculing others, and swore like a trooper, yet no man seemed inclined to take advantage of him. Blackey took him under his protection, laughing and inciting him to mischief. He was certainly not backward in insulting and threatening Blackey, which made the latter laugh until the tears came into his eyes. The men were spellbound at his volubility. He shook that red rag of his, and a continuous flow of speech ensued, and the surrounding creatures were mute, but not at all infuriated. His audacity may have slightly irritated one or two, but no man had the least idea of inflicting on him corporal punishment. I and Red were called to the office to sign articles for Glasgow, and, when doing so, Blackey and this strange new companion of his were signing for England, the two ships leaving for their destination on the same tide. We were sorry to lose this man's company, knowing that his tongue would have gone far to amuse our leisure hours aboard.
…
The first man we met, on entering the cattlemen's office, was Blackey, who, having made a shorter trip, had returned some days previous. "What became of your strange friend, Blackey?" I asked. "Did he remain in England, or return to America?" "Why, haven't you heard about it all?" asked Blackey; "the English papers were full of the case." "We have heard nothing," I said, thinking the poor fellow had either been kicked to death by one of the wild steers, or that he had either leaped at the waves in a mad fit of suicide, or that the waves had leaped at him and taken him off. "He worked side by side with me for eleven days," said Blackey, "and by his singing, laughing and talking, he made a play of labour. Down in the forecastle at night he sang songs and, in spite of our limited space, and the rolling of the ship, he gave many a dance, and ended by falling into his low bunk exhausted, and laughing still. In all my experience this was the first time that I was not eager to sight land, and fill myself with English ale. On the eleventh day out, we were hoisting bales of hay for the cattle, and he was assisting me in the hold of the vessel. I know not whether we failed to fasten properly the bales, or whether the cattlemen on deck blundered when receiving them, but all at once I heard a shout of–'Look out, below!' and down came a heavy bale, striking my companion on the shoulder. He spun around once or twice, and then fell unconscious into my arms. The ship's doctor was at once called, and the poor fellow was taken aft. Several times a day I made enquiries about him, and heard that he was out of danger, but needed rest. I never saw him again. When we landed in England he was not to be seen, and I thought, perhaps, that he was too ill to be removed without the assistance of a vehicle. Next day I happened to pick up a paper, in which was a full and lengthy account of how a woman had worked her way as a cattleman from the port of Baltimore, making mention of the ship's name. My companion was that woman, and I never had the least suspicion," continued Blackey, "although, I will say, that I always thought him a queer man."
Source: Free book from the Internet Archive
Binkie Beaumont, a theatre manager and producer, is born in 1908. He was brought up in Cardiff and later friends with John Gielgud despite Gielgud's partner John Parry moving in with Beaumont.
1909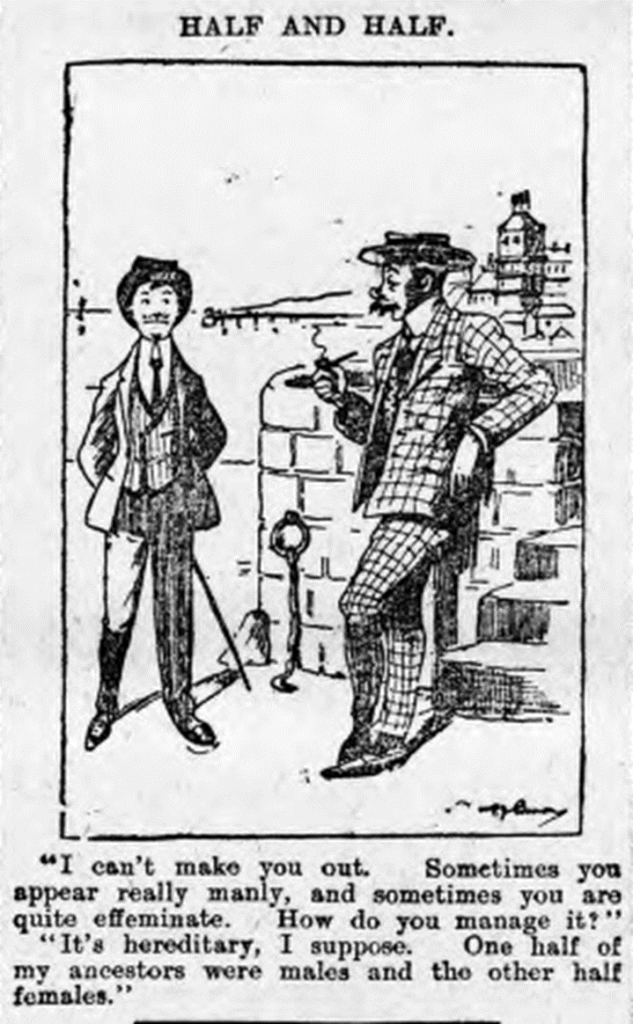 Source: Abergavenny Chronicle, 17 September 1909