1971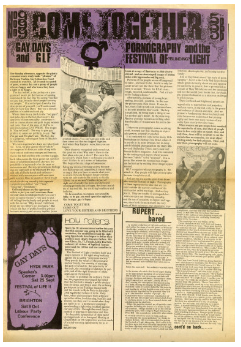 The newspaper of the Gay Liberation Front, Come Together, was formed by the GLF's Media Workshop in 1970. Issues 1-16 have been digitalised by the Bishopsgate Institute and can be accessed by clicking on the above link. The magazine mainly covered London but did include regional details including Howard Llewellyn in Cardiff and a number for Community Services.

The same issue includes this: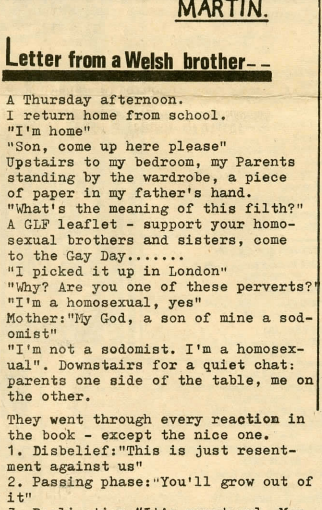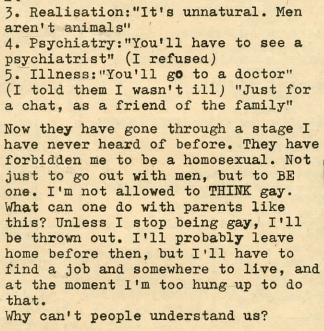 Source: Come Together, Issue 9, c1971
A further, undated issue, included an ad for the Aberystwyth regional office:

Source: Come Together, Issue 15 (undated)
And in issue 16 further regional ads appeared for Cardiff, Carmarthenshire, and Swansea:



Source: Come Together, Issue 16 (undated)
1972
An advert in Gay News, included two listings for the National Gay Liberation Front Groups:
Aberyswth (sic) GLF, c/o Polly Bluck, Room 80, Alexandra Hall Victoria Terrace, Aberyswth.
Swansea GLF, Pigeon Hole G, Student Pigeon Holes, Union House, University College Swansea, Singleton Park, Swansea.
Source: Gay News, 1 May 1972
1973
Homosexuals seek fair deal in education. A move to end discrimination against homosexual teachers will be launched in Cardiff at the weekend. Homosexuals throughout the country will visit the city on Saturday in connection with a campaign designed to educate children about homosexuality. At least 80 members from local Campaign for Homosexual Equality groups will be at the national council meeting at University College, Cardiff. But their pleas could fall on deaf ears at Cardiff City Hall. Already the education committee have told Cardiff's CHE group to quit their regular meeting place at Chapter Arts Centre in Canton. General Secretary of CHE Mr. Paul Temperton said: "We think the only way we can achieve better understanding with people about homosexuality is to tell the young what it is all about." Ald. Sidney Doxsey, deputy chairman of the city education committee, who once described the local homosexual group as "weirdos," said today he would not comment on the plan before it is discussed at CHE's meeting on Saturday. But he said he had received many letters of support for his outspoken demands that the local CHE group should be banned from meetings at the arts centre. He said, "Last night I sat in at one of their meetings and I haven't changed my view that this non-conventional organisation has nothing to do with art and should not therefore be allowed to meet at the arts centre.
Source: South Wales Echo, 4 September 1973
Chemical castration. In January 1973 at Cardiff Assizes, William Coleman (61) was charged with offences of indecency and attempted buggery. He had a long history of sexual offences. Coleman was placed on probation for three years on the condition he attend the East Glamorgan Hospital psychiatric clinic once a week for treatment of Cyproterone acetate for chemical castration.
Source: South Wales Echo, 23 January 1973; New Scientist, 8 March 1973
1974
Gay Liberation takes over a conference. About 50 members of Gay Liberation groups took over the congress of psychosexual difficulties at Bradford University in September. Among the groups was the National Transvestite Group from Cardiff.
Source: The Times, 14 September 1974
Gareth 'Alfie' Thomas CBE, born on 25 July 1974 in Sarn, is a Welsh former professional rugby who started his career at Pencoed RFC, Bridgend. He came out in 2009 and the following year was voted the most influential gay person in the UK in The Independent on Sunday Pink List and received Stonewall's Hero of the Year award.
1975
An anonymous writer from Cardiff sends a letter to the South Wales Echo entitled, Homosexuals Don't Need Pity, adding, "As a homosexual male I do not live in fear; I do not feel I have to hide my sexual orientation from my friends or family. I do not feel crippled, handicapped, abnormal. And do you know why? Because I have come to terms with my sexuality. I'm not ashamed of it and do not hide in a closet." Source: South Wales Echo, 29 November 1975
1977
Friend. North Wales offers free and confidential help to homosexual and bisexual men and women. For further information, or just a friendly chat – Tel. Llandudno 77013. Friday evening, 7 to 10, or write to us at P.O. Box 11, Llandudno, Gwynedd, LL30 2SA.
Source: North Wales Weekly News, 15 August 1977
The International Conference on Love and Attraction, organised by Matt Cook and Glenn Wilson, was held at Swansea in the summer of 1977. The papers were written up in the book Love and Attraction: An International Conference.
The Rev. Jim Cotter appeared on BBC's Everyman saying 'The Lord's My Shepherd and He Knows I'm Gay' and was a founder member of the Gay Christian Movement (LGCM) in 1976. The program can be watched on the BBC Archive. Cotter was the priest in charge at St Hywyn's Church in Aberdaron and died in Llandudno in 2014.