1980
Swansea Lesbian Line. The Line has just started; the collective is small and welcomes new members to answer queries on the phone. Contact them on Fridays 7.00-10.00 at 0792467365.
Source: Spare Rib, January 1980
Noel Sullivan from the group Hear'Say is born on 28 July and grows up in Cardiff.
Two fined. In two separate cases Cardiff magistrates fined men £20 each for "importuning for an immoral purpose" in the men's public toilet at Cardiff Castle. Thomas Davies, aged 30, of Kingcraig Street, Roath, and Peter James Davies, aged 20, of Caernarvon Way, Trowbridge, both admitted the offence. Davies's solicitor, Mr Peter Davies, said he understood the toilet has a certain notoriety.
Source: South Wales Echo, 30 July 1980

Source: Gay News, 18 August 1980
Lover denies killing. A young man who was well-liked in his home village of Cwmgwrach, near Glynneath, West Glamorgan, murdered his homosexual lover by battering his head in with an 18-inch wide stone, it was alleged at Swansea Crown Court. Christopher William Jenkins (26) of Heol-y-Graig, Cwmgwrach, has denied murdering Dennis Hopkins, aged 28, his lover of 12 years, last March in the village. In a statement to the police Jenkins is alleged to have said, "I do not know why I did it, I love him terribly."
Source: Western Mail, 3 October 1980
Gay teachers slam new child rules. Homosexual teachers in Clwyd are upset about what they regard as unjustified discrimination. The Merseyside Gay Teacher's Group, which claims to have a considerable membership in Clwyd, is protesting about Clwyd County Council's recent statement that it is not willing to employ homosexuals in posts which bring them into contact with children. "Nine out of 10 child victims of sexual abuse by men are girls," said a group spokesman. Heterosexual attacks on girls are ten times as likely to occur as are homosexual attacks on boys." A spokesman for Clwyd County Council said: "While a person's sexual inclinations are essentially their own business, there are occasions where we do have an over-riding duty to the people we have in our care, such as children, the mentally handicapped and the elderly." The council's decisions reflect this concern, said the spokesman.
Source: Wrexham Evening Leader, 20 October 1980
1982
Terrence Higgins born in Pembrokeshire dies on 4 July. He was among the first people known to die of an AIDS-related illness in the UK. The charity Terrence Higgins Trust is named after him.
1988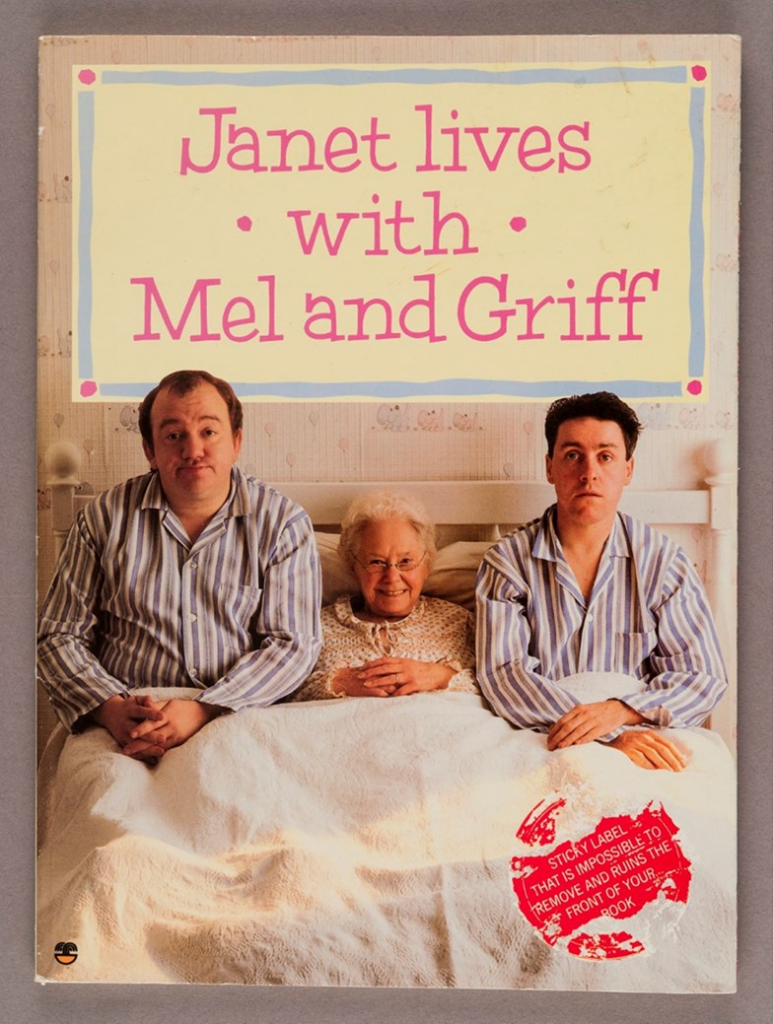 The controversial children's book, Jenny Lives with Eric and Martin, had been published in 1981 in Danish and in 1983 by Gay Men's Press. The author aimed to give children knowledge about different types of family relationships, but when found in a public library in 1986 the book was condemned. In 1988 comedians Mel Smith and Griff Rhys Jones (originally from Cardiff) parodied the book, making fun of the furore.
© Amgueddfa Cymru – National Museum Wales