Norena Shopland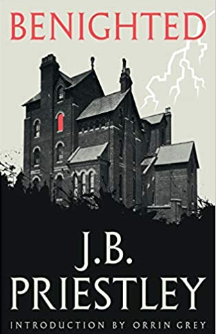 In 1957, just after the Wolfenden Report had been published recommending partial decriminalisation for homosexual men, it became clear the UK government would do nothing. As a result, A. E. 'Tony' Dyson (1928- 2002) literary critic, university lecturer, and gay rights campaigner wrote his famous letter from Bangor University to the Times asking for the recommendations to be enacted. It was signed by many leading dignitaries of the day including the writer J. B. Priestley (1894-1984) and his bisexual archaeologist/writer wife, Jacquetta Hawkes (1910-1996). Priestley was a strong supporter of homosexual rights, yet when his only son Jack revealed he was gay Priestley was said to be disappointed.
Benighted (1927) was Priestley's second novel, but It received a lukewarm reception in the UK and was renamed The Old Dark House for the American market where it was much more successful and made into a film of the same name (see Queering Whale's The Old Dark House). The film follows the book quite closely despite some significant changes but both Priestley's novel and the film have queer readings.
The story concerns three lost travellers driving through Wales, Philip and Margaret Waverton, whose marriage is 'wavering', and their friend Roger Penderel – the tension in the couple's marriage, and Margaret's dislike for Penderel, sets the tone for the rest of the story.
As with other queer novels of this period (see The Murder of my Aunt) the Welsh setting is used as a means to stress wildness, something mysterious, something to be afraid of. Philip Waverton, is 'hanged' if he knows where they are – 'somewhere in wildest Wales. That's as near as I can get.' And they are lost in a landscape of 'savage hills', 'black spouting night', 'cracking mountains, lost in a world of black water' (p2).
The journey is lifted directly from Priestley's own experience while on a fishing trip to central Wales. In his essay, The Inn of the Six Anglers (1926), Priestly describes driving through a storm, a 'Homeric' journey, and one he liked to re-tell in many smoking rooms. The language is similar to that in Benighted. The hills 'piled themselves all round us' and 'threatened to overwhelm our trumpery shivering craft.' The way was narrow, twisting, steeper, misty, and ghostly, and they 'bumped' their way 'clean through this modern world into another.'
Having reached the inn, they recover 'safe and snug' listening to the storm raging as they and other anglers sit around a table talking. 'It still seems like a dream,' Priestly wrote:
the journey, the place itself, the inn, the six old anglers – the whole experience is more like the memory of some happy chapter in a leisurely old-fashioned tale than a piece of reality. I can hardly believe that that valley and lake are on the map, that in some directory of hotels that inn may be found. It seems as if that remote place had slipped through some little crack in time, so that the years had rushed by without avail, leaving it brimmed with its old-fashioned spirit of leisure and courtesy and kindness. Its guests, the six old anglers, were not quite of this world … Yet even now it is all so unreal that I have a feeling that I could not find that lake and that inn again, and I am sure that by the time I am old and grey they will have vanished for ever. (p117-118)
Priestley does not name the location, the lake, or the inn, so perhaps they have vanished forever.
Another Welsh setting is Priestley's play The Long Mirror in which Branwen, a woman artist (though some talk of her being a witch) has a five-year clairvoyant relationship with a composer she has never met. They finally meet at a Welsh hotel and here too the rain traps them.
Back in the Benighted story, having survived the storm, the three travellers arrive at an old dark house and knock frantically at 'a large door, stout enough for a little fortress … somehow it looked as if it were closed for ever' (p11). The nearby lake has burst and it is a fortress surrounded by water, a metaphor for Britain in WWI, and memories of the first world war, and the possibility of a second, loom over the book.
Finally, the door begins to move, and 'a large lump of a man' stood there, blankly staring at Penderel; a shapeless man with a full black beard and matted hair over a low forehead', a type of mythical ogre, a monster from imagined Welsh myths (p12). This is Morgan, the mute butler, the only character with a Welsh name. He mumbles something incoherent, 'as if a lump of earth had tried to make a remark.' leaving Penderel to quip, 'even Welsh ought not to sound like that.' Morgan seemed to be 'staring out of another world,' and remembering they were in Wales Penderel assumes Morgan does not speak English, and that he 'might be the solitary surviving specimen of the original aborigines of this island' (p14).
However, it is Penderel that straddles both worlds, he does not appear part of the modern group or the medieval characterisation of the occupants of the house. It is his experiences in the war that seem to set him aside and Priestley portrays Penderel as someone on the periphery. In the opening pages, he lights a match in the car and when it goes out, he is 'nothing but a shadow' (p3), in the rain he is a 'blurred figure' (p14), 'almost outlawed, naked' (p26). Later Penderel tells Gladys that he had been spending most of his time with men (p73) despite the novel being set several years after the war and his cynicism and lack of a job are attributed to his experiences in the war – he is haunted by his past. Margaret Waverton admits her discomfort with Penderel. She likes him better in the 'civilised' world (p37) and his lack of understanding for women bothers her. 'You don't know anything about them,' she tells him (p39). 'That's true,' he replies, 'I don't understand 'em. I don't even pretend to. Another thing, I don't like the fellows who do.' Philip Waverton shares the sentiment, calling men who write about women 'complete bounders' and Penderel agrees, 'They're nasty, crawly lads, who'd be better employed selling lipsticks. Why women themselves can't see it, I don't know. They seem to love 'em.' An annoyed Margaret accuses them both of being jealous because women find that type of man attractive, however, even she adds, 'sensible women don't like them very much, probably don't like them at all in their heart of hearts. But one can't help being interested and curious, of course.' No attempt is made to define what that 'type' of man is but it is possible to see a queer reading here. Traditionally Benighted is read as a tension between classes but it is also a tension between differences – where normality is acceptable but differences are not.
Having been reluctantly admitted into the house, the trio is greeted with the characters of Horace Femm a painfully thin, effeminate man, and his sister Rebecca, who has the masculinity that Horace lacks. When the travellers ask to stay, the small, hunched woman screeches 'no beds, we've got no beds' at Horace (p18) and, hard of hearing, Horace hisses at her in a sibilant whisper. There is a butch/femme dynamic between Rebecca's masculinity and Horace's effeminacy. It is she who owns the house, controls the wild mute Morgan, and is the keeper of their history. Neither she nor Horace have been married and she berates Horace for his mocking of God (p18).
Reluctantly, Horace and Rebecca prepare a meal for their impromptu guests, 'the coldest of cold suppers,' (p42) during which they are disturbed by the arrival of two more travellers escaping the rain. Sir William Porterhouse and his companion Gladys Du Cane. Porterhouse and Waverton are old acquaintances, providing that link to outside, to London, to normality.
After the meal, Roger Penderel proposes they play a game of 'truth' but 'we stop lying'(p53) and each give a short talk about their lives.
Horace Femm (whose surname sums up his character) admits he returned to the house of his birth to find shelter, that he is wanted by the police 'nothing really criminal, nothing that is, in bad taste, but the Law in this country happens to be as heavy and stupid and idiotic as the poor creatures it is supposed to benefit, and Chance for once was not on my side.' (p59). Only Penderel wonders 'what he's been doing' (p83) but given the emphasis on Horace's effeminacy, we can wonder if Priestley was implying homosexuality – when he wrote this in 1927 men could still be arrested and jailed. Perhaps the statement is deliberately vague; had Priestley highlighted a taboo subject, in only his second novel, he may have been subject to critical judgment.
When it is Penderel's turn to talk he describes falling in love with his nurse in spring while convalescing from a war wound but when he returns in the autumn, she writes telling him 'it was all a mistake' and they were not really suited (p66). Like Margaret, Gladys also finds Penderel strange and tells him so several times; that, despite having met previously she cannot recall their meeting because, she reasons, 'he didn't care much about girls, but was one of those who went round drinking with other fellows, played cards for money all night, and talked about the War and books and politics and all that, very clever and very funny' (p77). Later on, alone with Gladys, Penderel muses about why he is attracted to her, seeing her as 'curiously attractive and exciting', he hadn't been interested in women of 'his own class' and when he says Gladys is pretty, she denies it adding, 'my figure isn't either, not for these days when you ought to be very long and slender or a kind of boy' (p117). Nevertheless, they plan to move in together on their return to London thereby restoring the heteronormative narrative.
Priestley stresses class differences in a story of Porterhouse's wife being snubbed for wearing a cotton dress and so Porterhouse deliberately sets out to ruin the snobbish women whom he blames for his wife's death (p92-93) and the class divide is further stressed by the Femm's hereditary aristocracy, plagued by insanity and religious fanaticism, with Porterhouse the new industrialist. Morgan is the brutish, uneducated working class who, despite having no voice, threatens their stability and of whom everyone is afraid, 'very close to Nature' (p71) with an 'unwashed hairy body' that lunges towards Margaret in sexual attack his 'paws' ripping at her dress (p101).
Another member of the Femm family is the bedridden patriarch Sir Roderick whom the Wavertons discover when exploring the house. Sir Roderick provides some more background information on the family's inherent madness, even hinting that Horace and Rebecca may have murdered their invalid sister Ruth. Sir Roderick cautions them against another danger – the final member of the Femm family, Saul, locked in a room upstairs, a pyromaniac madman, who practises 'cleansing by fire' (p138) for whom Morgan has a fondness. When drunk, he tends to release Saul from his room and puts the whole house in fear.
The conclusion comes when the power suddenly fails and so the house is lit by candlelight and lamps, setting an eerie scene when Saul, released by Morgan, meets Penderel on an upper balcony and the two fight, Saul, like Morgan a mute, mad beast. Together the two men crash through the old railings and fall to their death and as their bodies lay tangled together, Philip notes 'a queer brotherhood between them' (p167).
In the end, it is Penderel, the troubled, ill-defined man who is dead, while Philip and Margaret find new strength in their marriage. The heteronormative narrative has been restored.
Sources:
Priestley, J.B., Benighted (Valancourt Books, 2013)
Priestley, J.B., 'The Inn of the Six Anglers' in The Works of J B Priestley: self-selected essays (William Heinmann Ltd, 1937) p.113- 118. Full text available via Internet Archive