2000
Controversy over the repeal of Section 28
The secretary of the National Union of Teachers Cymru, Gethin Lewis, said, "It is a faulty piece of legislation and there is no need for it to exist. Teachers should be trusted to deliver sex education in a way that is appropriate to their schools and they do not need to be told what they can and cannot do in the classroom."
Source: Western Mail, 11 February 2000
An Elliot Cooper of Carmarthen writes to the Western Mail claiming the current legislation protected children from homosexuality being 'actively promoted'.
Source: Western Mail, 11 February 2000
The Rev. Elyn Rees of Salon, Ammanford also claimed the repeal would 'pollute' children's minds.
Source: Western Mail, 12 February 2000
Archbishop of Wales, Rowan Williams, supports the repeal of Section 28 saying, 'No one has any right to condemn one group of people.'
Source: Western Mail, 12 February 2000
14-year-old Eleanor Parsons from Newport, wrote to a newspaper supporting the repeal. She concluded, 'It is unrealistic to think that young people are not aware of sexual issues. Many are even supportive of it. the recent coming out of Stephen Gately caused a lot of talk but his fans accepted it. they understood that it didn't change the sort of person he was or the messages he portrayed. He never denied being gay, he just never revealed it. other role models have confessed to being gay in the past and it still hasn't affected their careers, such as Elton John. Doesn't this show that sexual orientation is not important? It doesn't affect the way people work and those who change their opinions when discovering someone is gay are obviously biased.'
Source: South Wales Argos, 21 February 2000
David E Sutcliffe from Amlwch, Anglesey wrote an open letter stating, 'a leopard doesn't change its spots, people are born that way, either heterosexual, homosexual or bi-sexual. It isn't possible for homosexuality to be caught from or taught by other people, it isn't a disease. No amount of promotion or therapy will change one's sexuality. Therapy experiments over many years after World War II, were a failure. The fear that heterosexuals can be converted by the promotion of homosexuality in school is quite unfounded.'
Source: Bangor Mail, 23 February 2000
Education secretary, Rosemary Butler, commissioned a review of sex education in Welsh schools. Replying to anti-Section 28 campaigner Nick Bates, Newport AM, she stated it had nothing to do with whether the repeal would go ahead or not, but that current guidelines were out of date. Bates said, 'the idea that homosexuality could ever be 'promoted' among children was always pretty ludicrous. What young people need is frank and honest advice that will enable them to develop in the way that suits them best.'
Source: South Wales Argus, 16 March 2000
Tory Assembly Member (AM) David Davies stages an exhibition of LGBTQ+ literature in the Senedd which he claimed would be made available in schools if Section 28 was not repealed. He was the only AM to vote against the repeal. While most people condemn the exhibition, the leader of the Tory party William Hague supports it. Cardiff-born Brian Rich, then president of the Warwick University LGBT Students Society, accused Davies of 'whipping up hysteria and encouraging the kind of intolerance which led to the Soho bombing' the year before.
Source: South Wales Echo, 4 April 2000; Daily Post, 5 April 2000
The Bridgend branch of the Labour party also voted to retain Section 28. Although Councillor Jeff Jones, Leader of Bridgend Council, supported the repeal saying, ''Section 28 is an unworkable law based entirely on prejudice against local authorities and homosexuals. There has never been a single prosecution under Section 28 because, as any lawyer will tell you, it is virtually impossible to define the word 'promotion'.'
Source: Glamorgan Gazette, 6 April 2000; Glamorgan Gazette, 20 April 2000
James Sweet, of Cathays, Cardiff in a public letter wrote, 'I attended high school in the late 1980s and the daily abuse and hate I endured because I was gay caused me to attempt suicide on two occasions – at 14 years of age.'
Source: South Wales Echo, 22 April 2000
Naomi Bethan Jones, Assembly Officer, Care for Wales, Cardiff also claimed children could be harmed and they should be protected 'from the promotion of sexual experimentation at too young an age.'
Source: Western Mail, 13 April 2000
First UK out lesbian Mayor
Jaci Taylor (Plaid Cymru), is elected Mayor of Aberystwyth the first openly lesbian mayor, with her partner as mayoress.
Source: Daily Express, 6 May 2000
Rent boy jailed for attack on Swansea man
Scott Richards (20) from London met Gary Lewis (44) of Clydach, Swansea through a gay chat line. When Richards, who had a record of violence, visited Lewis he attacked him with a knife.
Source: Western Mail, 24 November 2000
Cottaging
Toilets at Llanfairfechan, Conwy was used for cottaging (meeting in toilets for sex). Detective Brian Powell Jones (39) of Beaumaris, Angelsey was arrested there for 'soliciting for immoral purposes'.
Source: North Wales Daily Post, 25 January 2000
Lost in Care
Report of the Tribunal of Inquiry into the Abuse of Children in Care in the Former County Council Areas of Gwynedd and Clwyd since 1974 is published by the Department of Health in 2000. Evidence against the Chester branch of the Campaign for Homosexual Equality is considered.
I fell off the chair
Chris Bryant is elected Labour MP for Rhondda which surprised many people given Bryant's background – gay, a former Anglican vicar, and someone who had been a Conservative as a student. He says of his surprise selection, "I fell off the chair, and my opponents certainly did". Fifty-two people applied for the candidature and a local councillor was hot favourite to win. He retained the seat comfortably at the 2001 general election with a 16,047 majority, one of the largest in the country.
Source: Wikipedia
2001
Generation E: Predators (E4)
The Guardian's review of the TV documentary, Generation E, is scathing calling it 'a trashy sub-Channel 5 documentary masquerading as an insight into contemporary Britain. As you might have guessed, this was sloppy, cheap and lazy documentary-making at its very worst.' The program featured: 'Armando is South African. He works as a chambermaid in a gay hotel in north Wales. He has had sex outdoors, in shops, elevators, taxis, and even in the boot of a car with a man who liked being confined. He has quite a collection of sex toys, including a strawberry one that looks like it is made from nougat and one that "makes your whole body vibrate". This may sound like a recipe for nausea – not to mention arthritis in later life – but Armando seems to be happy.'
Source: The Guardian, 24 March 2001
Gwent man admits wounding gay ex-lover
A Gwent man was been cleared of attempting to murder his gay ex-lover by stabbing him in the stomach. Clifford Morgan pleaded guilty to wounding Paul De Warne with intent to do grievous bodily harm.
Source: Barry & District News, 10 May 2001
We Know Where You Live
In celebration of Amnesty International – the human rights charity launched in the Observer in 1961 – the newspaper does about a series entitled We Know Where You Live. Eddie Izzard is one of the celebrities interviewed: 'Izzard was born in Yemen, where his father worked at the BP oil refinery. The family moved to Northern Ireland before he could talk, and to Wales [Skewen, Neath Port Talbot] when he was five.
"He says he knew from the age of four. 'Some boy on my estate was wearing a dress and I thought, "Oh that's something I'd be into."' At 15 he was arrested for shoplifting lipstick from Boots in Bexhill-on-Sea, an event that also found its way on stage: 'I had it under some brown bread. I was walking out, kind of casual, and I was caught immediately.' He explained it was for a friend. 'I was 15, so they let me off with a warning. And the warning was: "That lipstick's never going to work with that eye shadow, is it?"'
Source: The Observer, 27 May 2001
Carrying Lyn
At Chapter Arts Centre the play Carrying Lyn by Paul Jeff, Lyn Levett, Richard Morgan, Mike Pearson, John Rowley was staged. It was a multi-site performance when a group of men carried disabled trans performer Lyn Levett from Cardiff Central Station to Chapter. The route passed 12 fixed points, was videoed and these 10-minute fragments were collected by cycle couriers and then taken back to Chapter for the audience.
Source: Theatre in Wales
Alun Michael, the First Minister of Wales, announces that the Welsh Assembly will tackle anti-gay bigotry.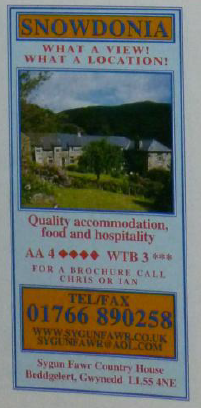 Source: Gay Times, June 2001
Gay Times publishes a feature article on Sygun Fawr Country House which at that time had been run by Chris Jennings and Ian Davies for three and a half years.
Source: Gay Times, June 2001
MPs Chris Bryant (Labour, the Rhondda) and newly elected Adam Price (Plaid Cymru, Carmarthen East and Dinefwr) appear at Cardiff Mardi Gras (now Pride Cymru).
Bryant said, "If you'd asked anyone for their stereotype of the Rhondda before the election it would have been that they would never elect anyone like me. But I ended up with more votes than anybody else in Wales in the election – which goes to show that kind of prejudice is a thing of the past. There are a lot of young people growing up in Wales who discover that they are gay and can feel some kind of freak. So it's important that we have role models and that we work to ensure equality in the law."
Price described the event as "a celebration of diversity that is characteristic of the tolerant and inclusive Wales we all want to see … Unfortunately, there are still too many instances of gay men and lesbians facing discrimination."
Source: Western Mail, 1 September 2001
The Archbishop of Wales, Rowan Williams added fuel to the debate on homosexuality in the Church after he gave his support to more acceptance of lesbians and gay men. He questioned whether the biblical teachings in Leviticus and Romans had any relevance to homosexuality today and the acceptance of homosexual relations among the laity but not the clergy was a 'contradiction' that was hard to sustain. He said, 'If the Church's mind is that homosexual behaviour is intrinsically sinful, then it is intrinsically sinful for everyone. It is that unwillingness to come clean that can last.' He called for a new study of the Bible which did not support a ban on gay partnerships.
Source: Gay Times, September 2001
Wales' Lesbian, Gay and Bisexual Forum
Wales' Minister for finance, local government and communities, Edwina Hart, has launched the Wales Lesbian, Gay and Bisexual Forum to advise the National Assembly. "The opportunity to have a meaningful communication process between the communities and the National Assembly is essential if the Assembly is to carry out its obligation to meet the needs and listen to the aspirations of all the citizens of Wales," Hart said.
Source: Gay Times, October 2001
Lesbian rock band banned
Rockbitch, a lesbian and bisexual metal band, who performed nude and incorporated sexual acts and Pagan rituals into their performances and who toured widely from 1998 until 2002, were meeting increasing resistance from authorities. They had been prevented from playing in Cardiff and Newport.
Source: Gay Times, October 2001
Bob and Rose
Russell T Davies' show Bob and Rose is aired. It features Alan Davies as gay school teacher Bob who is fed up with the shallowness of the gay club scene in Manchester. A romantic at heart, Bob yearns to meet the right person and settle down and meets Rose (played by Lesley Sharp). 'The script takes some shrewd looks at emotions and motivations but also contrasts the different atmosphere and attitudes within gay and straight UK night clubs – as in the scene where a straight man cannot get into a straight club wearing trainers but the gay men can enter their club wearing skimpy satin sports clothes. One important scene which explains Bob's disenchantment with the gay clubs comes when he is approached by an attractive man who talks only about physical acts. Bob, desperate to be regarded as an individual replies: "I'm a Capricorn".'
Source: Wikipedia
Mother Clap's Molly House
The Royal National Theatre, Cardiff stages Mark Ravenhill's Mother Clap's Molly House, set in an eighteenth-century Molly House and depicting a range of gender-nonconformists from a pre-gay, pre-queer era exploring dissident sexualities.