Norena Shopland
Sometimes, when recording a history of diversity, diversity within diversity often gets left out. We struggle at the best of times to find cases of sexual orientation and gender identity but finding minority ethnic or disability, for example, within that history is ten times harder. Consequently, we are often left with a history prior to the 20th century, devoid of diversity.
In this case, even tenuous links can be valuable – such as Mystery Gauze the female impersonator.
I first came across this reference in a 1906 Rhondda Leader advert for Poole's Palace, otherwise known as Poole's Palace of Varieties or Poole's Palace Theatre in Porth, Rhondda Cynon Taf and on the bill was the intriguing sounding 'Mystery Gauze, Marvellous Colored Lady Impersonator' – just who, I wondered, were the Porth audience watching.
After a bit of digging around, I was able to put together a few facts.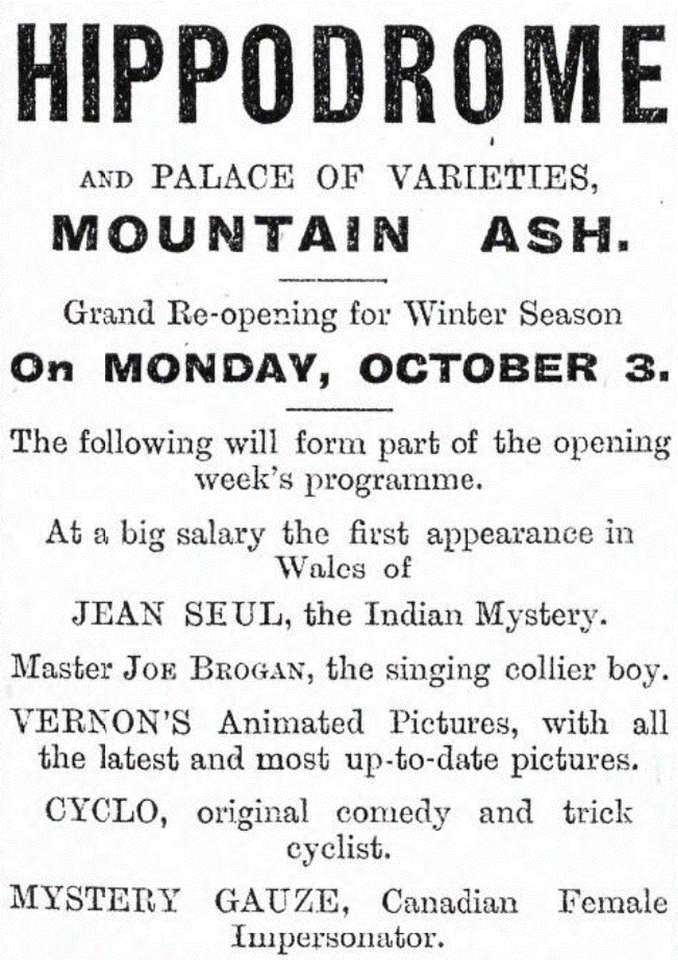 William 'Willis' Gauze was a Canadian native Indian despite a number of newspapers identifying him as African American – when he was in Aberdare in 1904 the Aberdare Leader clearly identifies him as a 'Canadian Female Impersonator.'
He began his career as part of McAdoo's Jubilee Company appearing as either the Great Gauze or Mystery Gauze and was a prominent performer in the troupe touring with them for several decades throughout America and Australasia to great acclaim. The picture below shows the troupe but as nobody is identified it is not known which one is Gauze.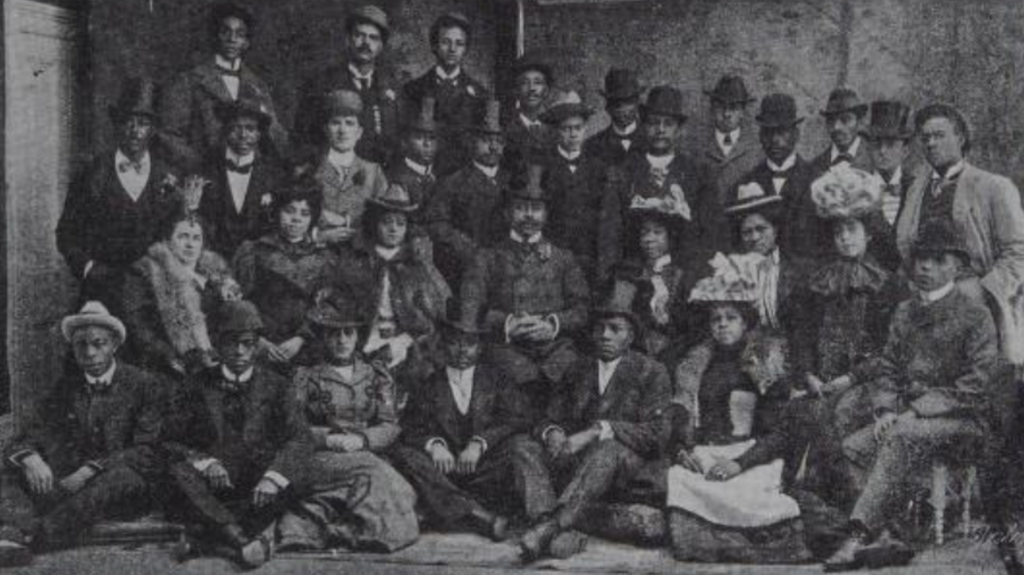 While on this tour in Australia, The Sportsman wrote that Gauze was so good,
as to mystify a number of the audience for some time as to the performer's sex. Possessed of a full, rich voice, and considerable "female style," this artist's turn was one of the best of the programme.[i]
The Australasian described him as a 'male soprano' who appeared in feminine attire,
highly rouged as to the cheek bones, but with a blue and shaven jaw innocent of decoration. But for that inequality of make-up he would pass for a female artist of the distinctly forbidding type, by reason of the tinge of coarseness which appertains to ever man masquerading as a woman, although everything he says, or sings, or does may be above reproach. Mr Gauze sings in what seems a true soprano, and I verily believe cheated the majority of the audience until he began to interpolate gruff "asides" between the verses.'[ii]
The Hobart Mercury added that Gauze was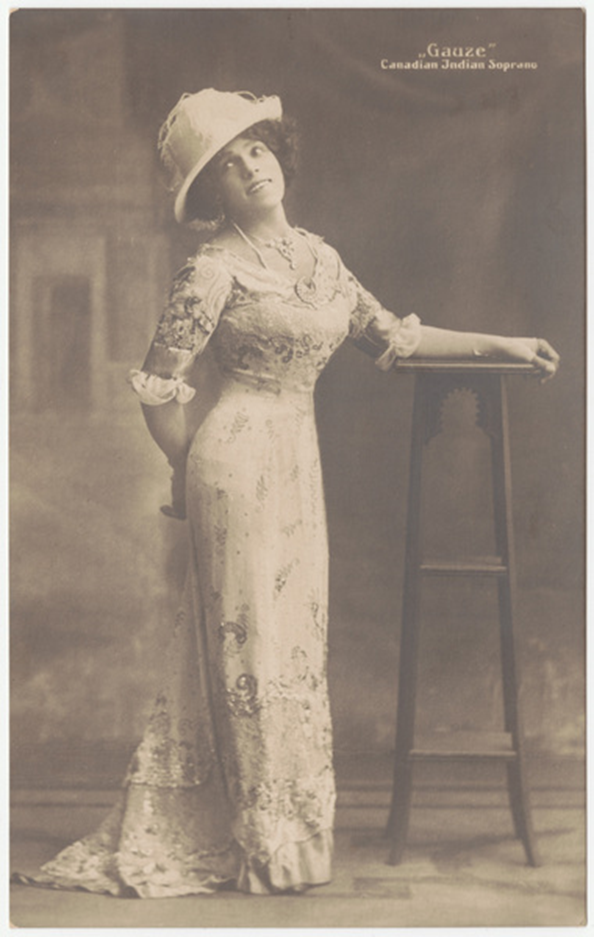 billed as America's premier character artist. He is said to be one of the most finished artists that have ever visited the Australasian colonies. He has a magnificent wardrobe, and could appear in an entirely distinct costume every night for a 30-night season.[iii]

Gauze was still with the McAdoo's Jubilee Company when they toured New Zealand in late 1900. 'One reviewer moved to comment: "He looks a comely woman in a low-cut dress, strange to say."'[iv]

By the turn of the century, Gauze had joined W.C. Buckner's Dixie Jubilee Singers, a troupe that had started in 1865 as Brooker and Clayton's Georgia Minstrels, the first popular African American blackface minstrel company who billed themselves as "The Only Simon-Pure[v] Negro Troupe in the World" and was enormously successful in challenging rival white troupes for popularity.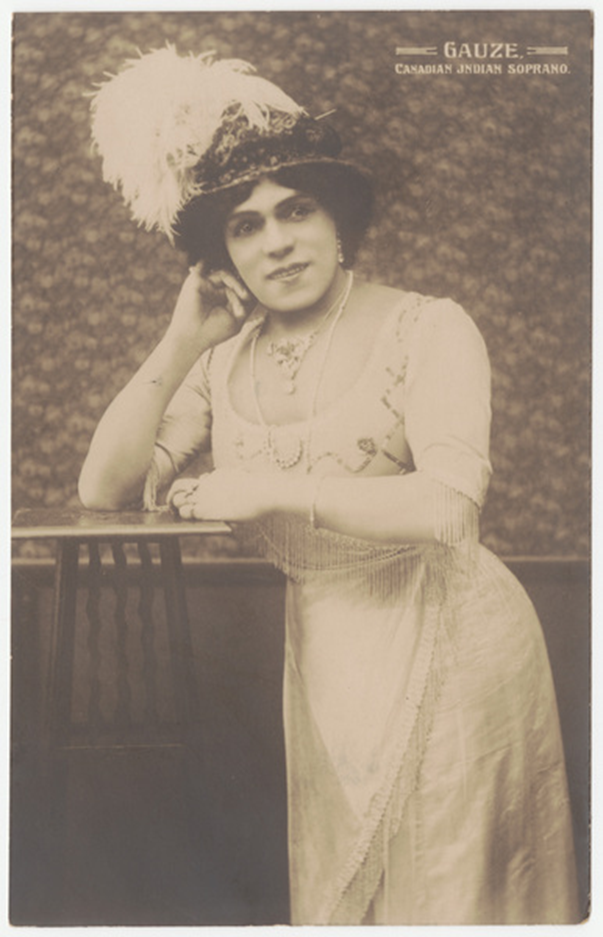 When Gauze appeared in Wales in 1906, he did so as a solo artist, the Rhondda Leader journalist writing that he, 'takes you down a step when his identity is revealed.'[vi]
So far, I have not found out anything more about 'Mystery Gauze, the Marvellous Colored Lady Impersonator' but at least we now know who the Porth audience was watching on a November night in 1906.
---
[i] The Sportsman, 8 Aug 1899
[ii] The Australasian, 12 Aug 1899
[iii] The Mercury, 31 Oct 1901
[iv] Out of sight: the rise of African American popular music, 1889-1895 by Abbott, Lynn Jackson : University Press of Mississippi 2002
[v] authentic, or honest
[vi] Rhondda Leader, 24 November 1906