1993
The Older Lesbian Network (Wales) is formed in 1993 to provide opportunities for older lesbians who were opposed to discrimination. It was run by volunteers with the aim of encouraging pride and confidence in its members.
1994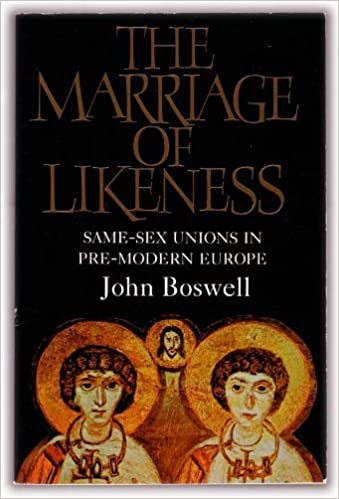 American historian John Boswell (1947–1994) publishes Same-Sex Unions in Pre-Modern Europe (UK title: The Marriage of Likeness: Same-Sex Unions in Pre-Modern Europe). An extract from by Giraldus Cambrensis is included which causes great controversy over its translation.
For more on the controversy surrounding this passage see Norena Shopland's book Forbidden Lives: LGBT stories from Wales, (Seren Books, 2017) and her article, Vindication for John Boswell, in the Gay and Lesbian Review, May-June 2018.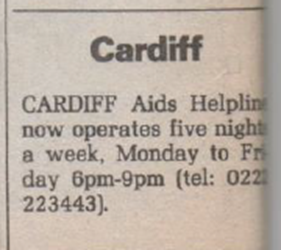 An advert for the Cardiff Aids Helpline appeared in the April issue of Gay Times.
Source: Gay Times, April 1994
1997
When Labour come to power in 1997, Alun Michael from Bryngwran, Anglesey, becomes a Minister of State in the Home Office. Peter Tatchell writes, "Home Office Minister, Alun Michael, who is also Labour's spokesman on gay matters, agrees: "We have come into office with an enormous range of issues which we are committed to deal with, and there is a hierarchy of priorities".
In terms of government pledges on gay equality, Michael says the age of consent is "the most important issue". If that is the case, Labour's vagueness and hesitation on the consent issue casts a pessimistic shadow over the future of law reform."
Source: Peter Tatchell, New Labour, New Hype?
1998
Tipping the Velvet (1998), a historical novel by Sarah Waters is published. It is her debut novel.
Adoption
In British law there was nothing to stop a gay man or woman individually adopting a child, subject to approval. In reality this was rare. Some research carried out at Cardiff University in 1998 found that only three out of 2000 approved adoptions were by gays.
Source: Heinemann Themes in Psychology: Human Relationships, Christina Ryecroft & David Moxon, 2001
Age of Consent
Labour MP Ann Keen from Buckley, Clwyd introduces an age of consent amendment to the Crime and Disorder Bill which is passed in the House of Commons with a majority of 207. However, the following month, the Lords threw it out, voting against it, 290 to 122. The government reintroduced the measure in January 1999, this time winning a majority of 183 in the Commons. But, despite an impassioned appeal by Home Office minister Lord Williams, who urged peers to put equality above the criminal law, the Lords – spurred on once more by Baroness Young concerned about 'family values' – again rejected it … Liberal Democrat Earl Russell warned Baroness Young that the government would invoke the rarely used Parliament Act, allowing them to pass the Bill into law without the Lords' consent. … On 30 November 2000, after sailing through the Commons one more time and, predictably being blocked by the Lords, the government carried out its threat. A few hours later, the Bill received Royal Assent.
Source: Hugh Kaye, 'Equal Age of Consent: A Comprehensive History of The Battle for Gay Parity' in Attitude, December 2020
Moment of Madness
Ron Davies, then Secretary of State for Wales resigns due to "an error of judgement" in agreeing to go for what he said was a meal with a man he had met while walking on Clapham Common in London, which is a well-known gay meeting place. He was mugged at knifepoint. The full details of the incident (which he infamously called a "moment of madness" at the urging of Tony Blair's Press Secretary Alastair Campbell) have never emerged. Davies later acknowledged that he is bisexual.
Source: Wikipedia
1999
A conference on Eunuchs in Antiquity and Beyond is held at Cardiff University on July 27. One paper includes Natural Eunuchs in Roman Law: "Not Diseased or Defective" by Mark Brustman.
Being naturally impotent for procreative sex, innately gay men were referred to in the ancient world as "born eunuchs" or just "eunuchs."

The paper can be read by clicking here.
First openly gay cabinet member Layton Percy Jones (Plaid Cymru) becomes Cabinet Member for Social Services (1999 – 2005).
TV series, Queer as Folk chronicling the lives of three gay men living in Manchester's gay village around Canal Street is aired. It is written by Swansea-born Russell T Davies and becomes cult viewing.